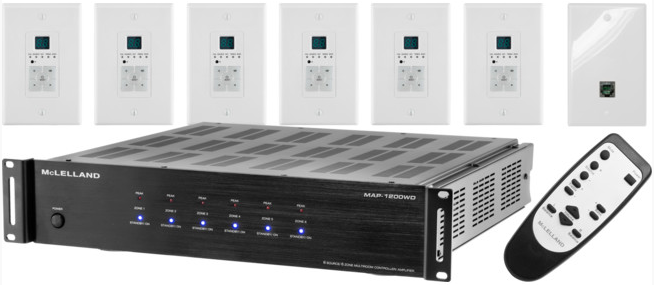 The McLelland MAP1200WD is a 6 Zone distribution amplifier with Wi-Fi control. Setting it up on your wireless network and configuring the app can be daunting to begin with.
Follow the instructions below to complete WiFi setup so that you are able to control the MAP1200WD using your smartphone.
Make sure your phone is connected to the WiFi network you want to use the MAP1200WD on ("JamesHome" or "RadioParts", etc.).
Reset the WiFi module on the MAP1200WD by:

Making sure the MAP1200WD is powered on, and you'll need two paperclip-reset-button-press tools.
Press and hold the "Preset" button on the rear of the unit. The LEDs will not change.
Quickly (Press, then immediately release) the "Reset" button while still holding the "Preset" button. The "Ready" LED should go solid red, and the "Link" LED light will flash briefly red.


Keep holding the "Preset" button for 6-10 seconds and release. The "Ready" LED should now flash with a "flash, flash, wait, flash, flash, wait" pattern
.
Note - It will leave this mode after 25-30 seconds, so be quick! If you see three flashes of the "Ready" LED, then it's not in WiFi connect mode anymore, and you'll have to reset it again using the steps above.

On the MAP-WD app in the "Device List" page, tap the "+" icon in the top right corner.
Type in your WiFi password, and tap "Configuration".


An "Equipment Searching" window should pop up. It will take some time, but if you've reset the MAP1200WD correctly, the app should find it. On the back of the MAP1200WD, you might see the "Ready" LED briefly flashing in an unusual sequence.


Wait until it dumps you back to the WiFi Configuration page, then tap the "Back" icon in the top left corner. You should see your MAP1200WD on the device list, with an IP address to suit your network. The "Link" LED on the MAP1200WD will be a pale yellow/green colour (it's hard to see).


Open up the MAP-1200WD (iOS 64-bit here) app on your phone, and you should have control over the MAP1200WD unit.