The DOSS IQ NVRs support high resolution cameras, but you still need to be mindful of the total bandwidth.
The 8ch IQ NVRs (NVR8IQECO and NVR8IQ) come with a total bandwidth support of 60Mbps. The 16 channel NVR16IQ can handle up to 80Mbps.
This means when you are setting up the recording quality of your cameras, you have to be mindful of the total bandwidth each camera is consuming. 
There are a lot of different factors that effect bandwidth. The primary factors are:
Bitrate
Encoding type (h264 will use significantly less bandwidth than MJPG)
Where the camera is pointing
To check your current bandwidth, follow these steps:
Log in to the NVR and go to Channel Setting
Under "Channel Connecting" tab
look for the Current Bandwidth indicator at the top right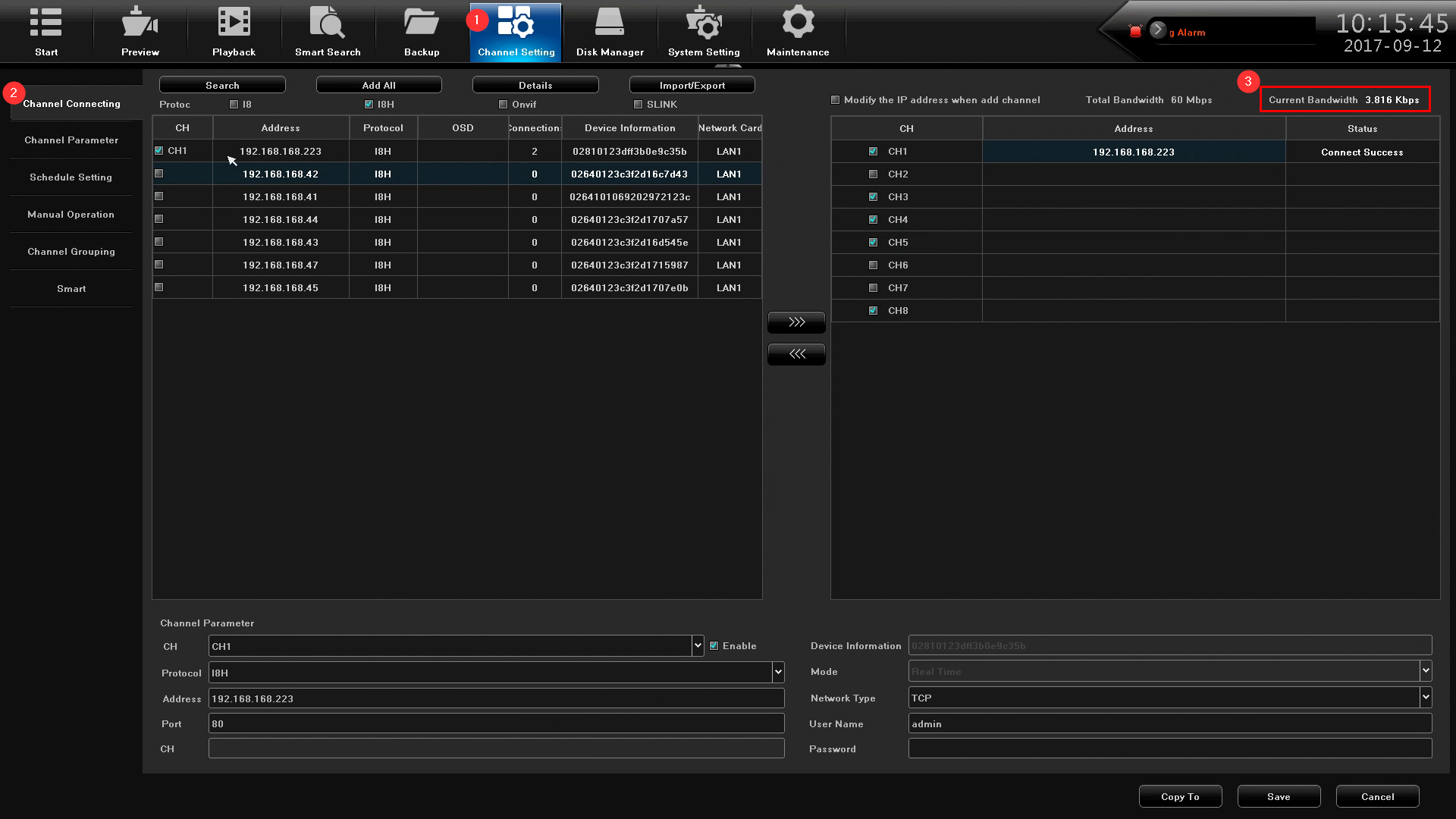 You can also monitor total download and upload bandwidth under Maintenance/Network Monitoring.
How to reduce/increase bandwidth?
You can control how much bandwidth each camera uses by changing camera settings. These settings can be accessed directly by logging into the camera, or you can change them via the NVR itself. 
Follow these instructions to change camera settings using the NVR:
Log in to the NVR and go to Channel Setting
Under Channel Parameter section, go to the Video Encoding tab
Make sure the encoding type is set to H264 (or H265 only if your NVR supports it)
Adjust the bitrate to suit your needs. The ideal bitrate will depend on how many cameras and what kind of picture quality you want. Higher the bitrate, the better the quality. Just make sure your total bandwidth is below the maximum allowed by your NVR.

NVR8IQECO and NVR8IQ: maximum bandwidth is 60Mbps
NVR16IQ: maximum bandwidth is 80Mbps

We also recommend setting the Bitrate Type to VBR (Variable Bitrate - default is CBR)